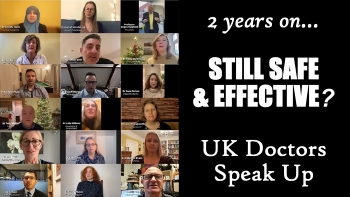 2 years on... Is the experimental injection still "safe and effective"?
Many doctors, in the UK and internationally, have become increasingly concerned about the safety profile of COVID-19 vaccines and the continued rollout of these products to the public, including pregnant women and children. Several doctors in DFPUK have submitted multiple Yellow Card reports of adverse events to the MHRA, and have signed letters to the JCVI, MHRA, the RCOG, the Prime Minister and others to express their concerns, but have seen little or no response or action taken.
Doctors for Patients UK (DFPUK) was launched in September 2022 and has become a fast-growing group of UK doctors who are dedicated to practising ethical, evidence-based, patient-centred medicine. The group was born out of increasing concerns that core principles of medical ethics are being disregarded, such as the oath to "First do no harm", respect for individual bodily autonomy and the need to obtain full and informed consent for all medical interventions.
Video link and alternative link.
More COVID vaccine info: COVID Shot Dangers - The "vaccine" exposed.
Video source: Doctors For Patients UK - https://doctorsforpatientsuk.com/