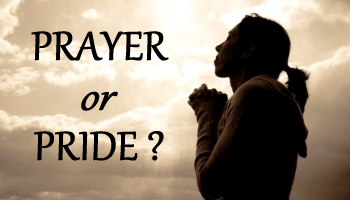 article
(Reading time: 2 - 4 minutes)
When I was praying the other day, this phrase dropped into my heart, "prayer keeps you from pride". As I was pondering on these words, I suddenly realised that the opposite is also true, "pride keeps you from prayer". [Sigh...] I know too well what that means - from experience!
Prayer Keeps us from Pride
Prayer has a way of humbling us because praying means that we acknowledge our need for God. It means recognizing that we are not able to face situations on our own; that we need help from above.